Sometimes you don't see a random event for your quest, and you only discover you've been asked to get an item, after you go to the shop wizard and the faerie appears and she refuses to serve you.
after all,  how easy would it be if you were allowed to use the wiz?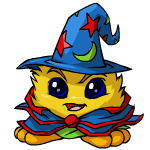 there will be a link on that page which will lead you back to the faeries quest, you can either go ahead and find the item or refuse there.
If you can't remember what the item was, or you want to refuse the quest, either go back to the wiz or go to the Quests page. 
The only quest which most people tend to refuse is the earth faerie, as she just feeds and heals your pet., so unless they are starving or injured it can be a waste of money. (she cannot heal sick pets, ones with illness's)
the faeries do not always bless your active pet. It is random which one gets blessed
I highly recommend that you search out cheap grooming shops, and cheap clothing shops, and bookmark them in case you get a quest, unless you have a nice guild, which you can post your needs they will either send you the item or at least show you the shop with the cheapest one in.
There is also a quest chat room, if you get really stuck, someone should point you in the right direction, unless they are scamming you and they have bought one and priced it outrageous in there own shop so you will buy it. If someone says to buy the item from their shop DONT, it is usually way overpriced