Petpet Park Plot Guide
Sorry this is a bit rough, I only just discovered the guide I had linked too had been cleared, I figured better to have something in place.
Missions are to be found here
In each Mission read the comic through and select Proceed to Mission
Mission 1 - Select the following caves ~ Right, Left, Left, Right, Left, Right.
Mission 2 - Move the opal by clicking on it until it lights up the spots, the moonlight keeps moving so it resets, but it can be done easily enough.
Mission 3 - For each portal there is a number listed on the device, to get the correct settings you will need to click with your mouse on the top-position of the device. The small red button will then go there. Then click on the red button at the bottom of the device. The display will now give you a number. That is the amount of spaces you need to move the small button down from the top. When you have done that, you can click on the lower button to close the portal. Do this for each portal until you you find the Pinixie.
Mission 4 - Answers needed are as follows ~ Fill the pit with cheese, Hurl insults at the stone heads, Dance a jig, Jam a toothpick into the mechanism, Become inexplicably hostile
Mission 5 - Answers are ~ Gerald, Doughnut, Harold
Mission 6 - Panel 1, use the tiles as so to equal the number stated on the right edge
Panel 2 involves making blocks of 4 colours, the same, in this order, the symbol doesn't matter, so 4 red symbols top left, and the other 4 bottom right, and so on
Petpet Protection League Prize Awarding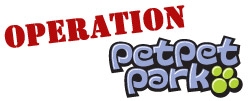 Dr. Rigby

Congratulations! We have a reward for you in thanks for helping us rescue those Petpets.
You have received the new
Petpet Protection League site theme!
Something has happened!
You are now eligible to use the 'Petpet Protection League' theme when browsing the Neopets.com website! Check out your User Preferences to change your theme.
You also receive
45,000 NP
!
Dr. Rigby

And once Petpet Park opens, we'll have another prize for you—a special item that your Petpet will be able to wear! Isn't that exciting? Come back to claim this extra prize once Petpet Park is open!

Launched 1st Jan 2004

© Neopets 2010
. All rights reserved. Used with permission
All other images and content © nuttyaboutneopets.com